Join the Family
Largo Implant and Dental Center
At Largo Dental & Implant Center, your smile is our priority. We're committed to keeping the whole family healthy by providing convenient, quality care in a warm, welcoming environment. Join the Largo family today!
Now Offering Limited Time Dental Promotions

Largo Dental Center is proud to work with each individual patient to provide top-quality dental care at affordable pricing.

Offers Expire: November 30th, 2023 See All Offers

$99 New Patient Special

New Patient Exam

Your first appointment will include a comprehensive new patient exam, gentle preventive cleaning, and a set of high-tech digital x-rays!
*Regularly valued at $323, this is for D1110, D0120, D0150*

$39

Emergency Exam & X-Ray

Because we don't want cost to be the reason your emergency goes untreated, we offer a limited emergency exam and relevant x-rays for just $39.
*Regularly valued at $92 this is for D0120, D0220*

$159

Implant Exam & Consultation

Largo Dental & Implant Center is proud to offer a complete implant exam and consultation, including a full set of x-rays and 3D CBCT scans, for just $159!
Real Results For Confident Smiles
At Largo Dental & Implant Center, we appreciate the trust you place in us to take care of your smile. That's why we do everything we can to stay current and engaged with the latest dental technologies and procedures. Using state-of-the-art tools and techniques, we offer a comprehensive service menu designed to provide a positive, effective dental experience for every member of the family!
A Dedicated Dental Team

As a long-standing, trusted Largo dental practice, you can feel secure knowing that our doctors are proven professionals with a track record of success. Dr. Rodio and her skilled team are experts in implementing the latest dental technology and best practices, providing preventive care, restorative dentistry, cosmetic dentistry, oral surgeries, tooth extractions, kids dentistry, and more, all under one roof. When you choose Largo Dental and Implant Center, you choose a caring team dedicated to serving our community.

Your Home for Affordable Dental Care

We never want the cost of your dental treatments to impact your ability to access the quality dental care you need. To help your dental treatments stay as affordable as possible, Largo Dental & Implant Center stays in-network with many of the country's top dental insurance carriers. If you're uninsured or need extra help managing the costs of your treatment, our team will be happy to set you up with a no-interest or low-interest financing plan!

Our Dental Service Menu Covers Everything You Need!  

Our comprehensive list of dental services was created with the entire family in mind! Dr. Rodio and her skilled team are committed to providing gentle, customized care with a long list of dental services to keep you smiling, including permanent dental implants, Invisalign® clear braces, removable and fixed dentures, oral surgeries, porcelain veneers, kids dentist appointments, root canal therapy, wisdom teeth extractions, take-home teeth whitening, and so much more!
Let Us Help You Smile With Confidence
See What Our Patients Say
"Your smile is our priority!"
"At Largo Dental & Implant Center, your smile is our priority! Each and every team member is passionate about the services we provide and is focused on patient comfort and health. We can't wait for you to join the Largo family!"
- Laurie Rodio, DMD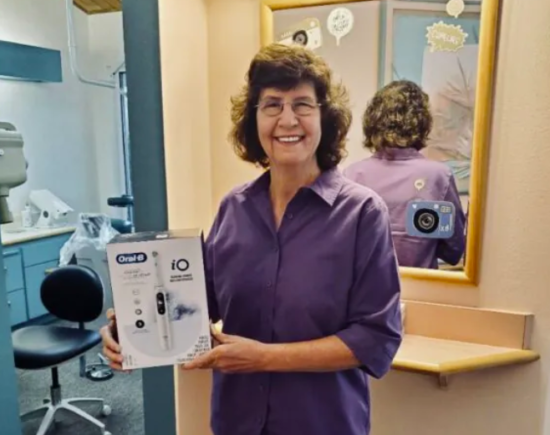 Visit Us Today
Monday:

8:00am - 5:00pm

Tuesday:

8:00am - 5:00pm

Wednesday:

8:00am - 5:00pm

Thursday:

8:00am - 5:00pm

Friday:

8:00am - 3:00pm
Monday:

8:00am - 5:00pm

Tuesday:

8:00am - 5:00pm

Wednesday:

8:00am - 5:00pm

Thursday:

8:00am - 5:00pm

Friday:

8:00am - 3:00pm