Dr. Laurie Rodio is ready to renew your confident smile, with restorative dentistry solutions powered by high-end technology and experienced care.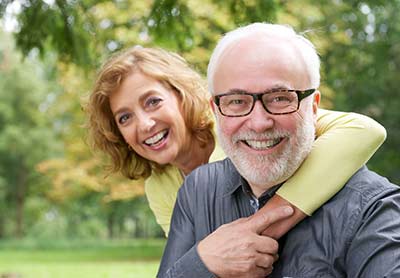 Largo Dental and Implant Center offers the top restorative dentistry solutions near Largo, FL because we always keep your smile goals in mind!
Using state-of-the-art dental technologies, our experienced team prioritizes comfort and efficiency with every dental implant, filling, and crown! And, you can rest assured knowing your consultation will be a completely comfortable one. We use low-radiation digital x-rays and even take digital impressions of the teeth - no sticky impressions required!
We offer the following selection of restorative dentistry procedures at our Largo, FL dental office:
Dental Crowns
Dental crowns are a top solution for restoring broken, chipped, or damaged teeth that remain otherwise healthy. Largo Dental and Implant Center can repair and save the tooth with a crown that fits comfortably over the front of the original tooth for stable protection.
In the case of a single missing tooth, Dr. Rodio may also use a dental bridge to fill a gap for a natural blend with the rest of your smile.
At Largo Dental and Implant Center, every dental crown is custom-crafted for your needs. We offer top-quality dental crowns made to last, using the following materials:
All Porcelain
All-Ceramic
Metal Porcelain
Zirconia
BruxZir®
Tooth-Colored Dental Fillings
When receiving treatment for a cavity, we never want you to feel uncomfortable dissatisfied with the look of your dental fillings. That's why Dr. Rodio carefully chooses dental fillings that blend with each patient's natural smile, avoiding noticeable metal fillings in favor of discreet, color-matched materials! Because we're an amalgam-free dental office, you can also feel secure in the quality of materials used in your dental fillings. Our team prioritizes your aesthetic goals along with your health and safety!
Dental Bonding
Dental bonding is a powerful method of restoring parts of the tooth that are missing. With tooth-colored materials similar to our fillings, we can cover gaps or chips in the teeth to fortify and renew your smile. Dental bonding is a minimally invasive procedure that rarely requires additional adjustment or numbing of the tooth!
Dental Bridges
At Largo Dental and Implant Center, we offer dental bridges as an affordable treatment to replace missing teeth. A dental bridge secures a false tooth in place, securing it to the surrounding teeth with a pontic, or a fused bridge. Our skilled team can provide traditional dental bridges or those that are permanently fixed with dental implants!
Dental Implants
Ready to replace one or more missing teeth with a long-lasting solution? Permanent dental implants are a top choice among patients because they're made to look, feel and function just like your natural smile! The dental implant procedure consists of a titanium post or root becoming permanently anchored to the jawbone, where a dental crown is then placed below the gumline.
Largo Dental and Implant Center always uses state-of-the-art dental technology and quality materials to provide the most durable restorations possible!
We offer the following dental implant systems:
Single Dental Implants
All-on-4®
Implant-Retained Dentures
Overdentures
Removable Dentures
Whether you need to replace all of your teeth or just a few, we offer an affordable, aesthetically pleasing option for filling those gaps with removable dentures! We offer both partial and complete removable dentures with options including Dr. Rodio and her experienced team will work with you every step of the way to find a restorative solution that suits you best.
You'll always have options when trusting us with your smile — we'll create a customized solution for each patient! Our dentures and partial dentures options include immediate, complete, partial, and flipper, including Zirconia implant dentures!
During your consultation with Dr. Rodio, she and her team will work with you to create the best dental implant or denture plan for your goals and needs.
Schedule Your Restorative Dentistry Appointment Today!
The skilled team at Largo Dental and Implant Center is prepared to keep you smiling with gentle, efficient restorative solutions. Give us a call today to schedule your consultation!